LEGAL SAFETY REQUIREMENTS FOR THE USE OF A SWIMMING POOL
Swimming pool safety is essential to prevent the risk of accidents and drowning.
In France, current legislation imposes a number of obligations on owners of private in-ground or semi-in-ground pools, in order to guarantee the safety of users.
This text sets out the main legal obligations and the safety devices that need to be put in place to ensure safe use of the pool.
THE SAFETY LAW
FOR PRIVATE SWIMMING POOLS
The law of 3 January 2003, amended by decree no. 2004-499 of 7 June 2004, defines the safety requirements for private swimming pools for individual or collective use. This legislation applies to in-ground and semi-in-ground pools, including above-ground pools whose structure is fixed and cannot be dismantled.
The aim of this law is to protect children.
IMPORTANT
In addition to the measures described below, the most important safety measure for children around swimming pools is constant vigilance and active supervision by adults.
MAINTENANCE AND
RESPONSIBILITY
Pool owners must ensure that safety devices are regularly maintained, that water quality is up to standard and that filtration equipment is working properly. They must also inform users of the safety rules and risks associated with swimming pools.
SAFETY DEVICES
APPROVED
Pool owners must install at least one of the four safety devices approved under French law to prevent the risk of drowning. These devices are as follows:
a. Protective barrier: A protective barrier must be installed around the pool to prevent access by children under the age of 5. This barrier must comply with standard NF P90-306 and be at least 1.10 metres high.
b. Pool alarm: The audible alarm must comply with standard NF P90-307 and automatically detect the fall of a body into the water. It must be positioned so that it can be heard inside the residence.
c. Safety cover: A safety cover must be fitted to the pool when it is not in use. It must comply with standard NF P90-308 and withstand the weight of an adult.
d. Pool enclosure: The enclosure must comply with standard NF P90-309 and completely cover the pool, preventing access by children under the age of 5.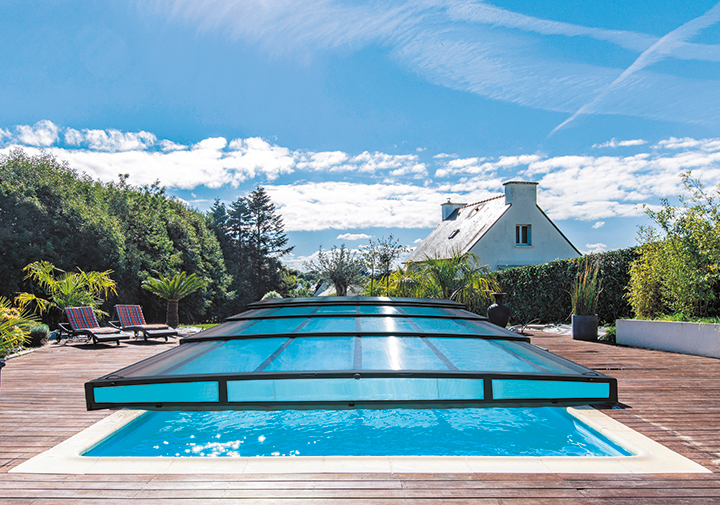 PENALTIES FOR NON-COMPLIANCE WITH
LEGAL OBLIGATIONS
Failure to comply with legal safety requirements exposes pool owners to criminal penalties, with fines of up to €45,000 and a year's imprisonment. Insurance companies may also refuse to cover accidents caused by non-compliant swimming pools.
CONCLUSION
Swimming pool safety is a major issue when it comes to preventing accidents and protecting pool users. It is essential that private pool owners comply with their legal obligations and install the appropriate safety devices to ensure safe and responsible use of their pool.