THE POOL WHEN AND HOW I WANT IT
UNLIMITED SWIMMING
IN YOUR POOL
The DUGASWIM pool has been entirely designed for all swimmers who want to train for competitions or simply maintain their fitness levels.
A dedicated swim lane with a full-width current offers total immersion, so you forget the size of your pool from the very first lap.
TRANSFORM A SMALL POOL INTO A SWIM LANE
Swimming against the current allows you to install a smaller pool that lets you swim for hours without ever touching the edge.
You'll experience the thrill of a swim lane while maximising the pool's space in your garden.
We can offer you the DUGASWIM concept for all pool configurations, whether large, classic or small.
BOOST YOUR PERFORMANCE
DUGASWIM's wide mouth and turbines propel the water in a natural way, creating a current that allows swimmers to concentrate more on their technique and train in conditions similar to those in a full-size swimming pool or outdoor pool.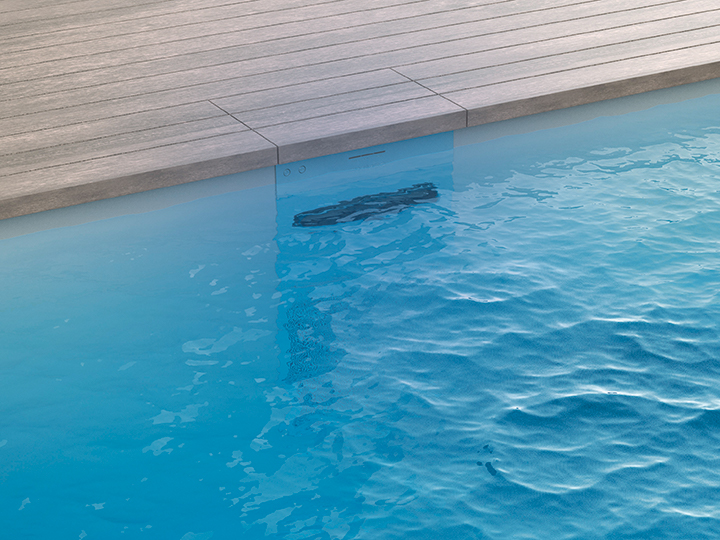 TURN YOUR EXISTING POOL INTO A DUGASWIM
If you want to convert your existing pool into a DUGASWIN, the external turbine module allows you to easily adapt the counter-current swimming system to your original pool. We offer you the most aesthetic model to match your installation.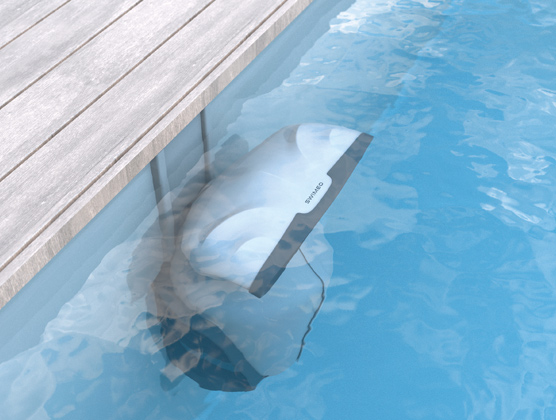 THE HIGHLIGHTS
5 times more powerful than a counter-current pump. Up to 400 m3/h for the built-in version, compared with 70 m3/h for a conventional counter-current pump, and 250 m3/h for an add-on model.)
Reduced energy consumption (1100 W).
Control application.
Sophisticated design.
Simplified installation.
EXTEND
SUMMER
Pool heating systems extend the swimming season and improve comfort for swimmers.
There are many solutions for enjoying your pool for as long as possible throughout the year.
HEAT PUMPS COMBINED WITH PHOTOVOLTAIC PANELS
Heat pumps, which are energy-efficient and recover heat from the air to heat water, can be powered directly by solar panels.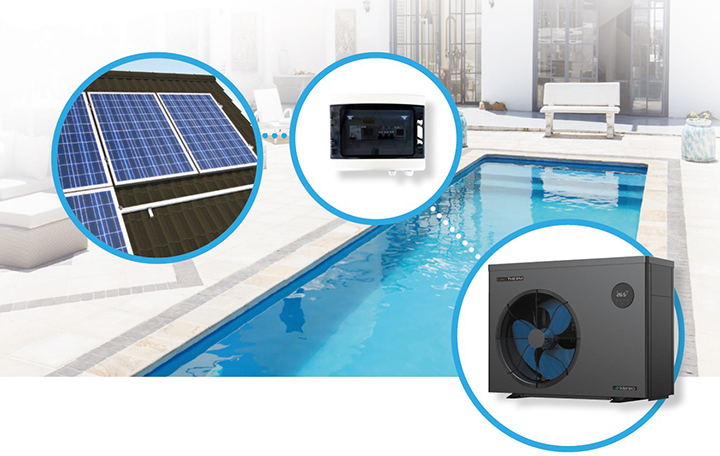 The sun's rays are then converted into electricity, which optimally powers the pool heat pump up to its full output. The result is optimised electricity consumption.
Installed on a roof or in a south-facing garden, the system is easy to connect using conventional electrical wiring.
OTHER HEATING SYSTEMS
Heat exchangers that use heat from other sources, such as a boiler or solar water heater.
Solar pool heaters are an ecological and economical alternative, harnessing the sun's energy via solar panels or solar mats.
And finally, electric heaters are a quick and easy way to increase water temperature, although they are less energy-efficient than the other options.
THE HIGHLIGHTS
Financial savings: up to 100% of the energy required over the season for operation.
Performance: high-efficiency solar cells.
Easy to install
The solar panels can produce up to 100% of the energy needed to run the pool heat pump. When the pool water is at the desired temperature, the energy supplied by the panels is consumed by the other electrical appliances in the house and contributes to the overall profitability of the system.
Each system has its advantages and disadvantages, so it's important to make the right choice for your needs and environment.
MASSAGE
AT HOME
Swimming pools equipped with massage nozzles transform the bathing area into a real home wellness centre.
Users can enjoy the benefits of hydrotherapy without leaving their property.
Massage nozzle systems are often designed to be adjustable in terms of pressure and direction, offering a personalised experience to suit each individual's preferences and needs.