BEAUTIFUL AND HEALTHY WATER AT ALL TIMES
FILTRATION
FOR ALWAYS CLEAN WATER
Good filtration is essential for keeping pool water clean and clear. It retains suspended impurities such as leaves, insects and fine particles.
Good filtration also ensures that water treatment products are distributed evenly, for optimum effectiveness.
The sand filter, the filtration of choice for municipal pools, has a double advantage: it's economical and easy to clean.
For its Elite range and its remote filtration systems, PISCINES
DUGAIN uses mainly sand, which can be supplemented or replaced by recycled, crushed and specially calibrated glass.
For even better performance, PISCINES DUGAIN can offer you diatomite, a material derived from volcanic rock that provides finer filtration and reduces chlorine consumption.
Although more efficient and with the same ease of use as a sand filter, diatomaceous earth requires the use of a more powerful pump and attention and monitoring of the installation for clogging.
FILTRÉOL®
PISCINES DUGAIN offers the Filtréol® system to preserve natural resources. This French system dechlorinates and stores the water used to wash and rinse your filter in a tank.
By recovering this water, you help to protect the environment by using it to water your garden, wash your cars, your terraces, etc.
Easy to install on your pool filter, Filtréol® by PISCINES DUGAIN saves 100% of your water.
BLOC POOLY
Does your garden make it difficult to add an above-ground for your filtration system?
DUGAIN Pools has packed its entire filtration system into a small space of approximately 1.2 x 1.2 m, integrated directly into the pool.
Bloc Pooly is an easy to install, efficient technical solution, pre-assembled at the factory.
This compact monobloc system includes: pump, filter cartridge, skimmer, electrical box, low level suction, lighting, massage nozzle and optional pH and chlorine control.
Our Pooly block is a genuine technical room.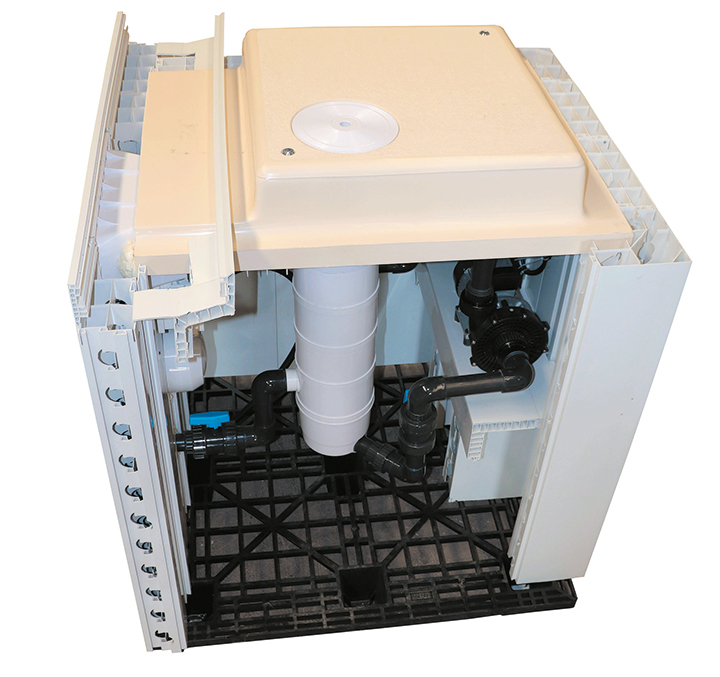 The covers
of protection
Avoid heat loss, dead leaves and dirt while heating your pool naturally with our bubble covers, specially selected for their quality and durability.